Range Report - From Beta Rider
Babymaker Beta rider Eugene Carbajal is back with a detailed range report-
Battery Range Test Update: (Charge #6)

Last night I conducted another 3 hr 45 min test, strictly at Level 3, with the following exceptions:
1) Sprinted at 47:30-48:00 at Level 5
2) Switched to Level 4 at Mile 44.5 (3:34) - "I was getting tired, hungry and cold."
Results:
47.2 Miles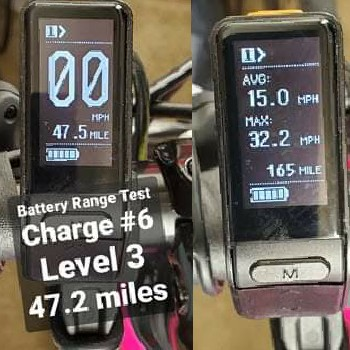 ---
Impressive work from Eugene. The range you achieve will vary on a large number of factors. Here's some data about Eugene's ride for your reference:
1. The test was performed on flat ground
2. Eugene is 60 years old
3. He weighs 160 pounds
4. Eugene rates his physical condition for cycling 7/10
5. The outside temperature during this test was about 55F
A bit more about Eugene:
Eugene was born in LA and raised in Manila. When he returned to LA in 1976, he joined USCF and was coached by the late Bill Honeman, former American Professional Sprint Champion.
(Eugene is #3 with glasses)
Bill even nominated Eugene to represent the Philippines in the Olympics, as seen in this letter from 1977-
Cycling has been a major part of Eugene's life for decades. He's got this to say about the Babymaker:
"It makes me feel ALIVE! all my arthritis pain just disappears 
The Babymaker is a great way to "Jump start" my training, early in the season

 

it builds up the muscles, from being dormant in the winter, so when I get on my track bike, my cyling legs are already in decent shape.
It's a great tool/equipment to jump start training. Even in recent Pro road races in Europe, Professional team use eBikes on their days off."
We can't wait to see more updates from Eugene as he puts more miles on his Babymaker Beta and when he receives his PRO as well! Here's the video from his first ride if you missed it -
In other news: 
Production continues. 
Ben has been slaving over the spreadsheets to make sure all orders are accurate. It's been a challenge with all of the change requests - but he is on top of it.
The support team is getting caught up on tickets - answering more than come in every day. The goal is to get to the mythical "Inbox 0."
We Love You
Rob, Pete and Team FLX
---