Estimated to ship Summer 2021
(No Refunds, Cancellations, or Order Adjustments will be processed after 10 days from Purchase Date)  
Feast. Your. Eyes.
On the sexiest, and sleekest electric bike out there.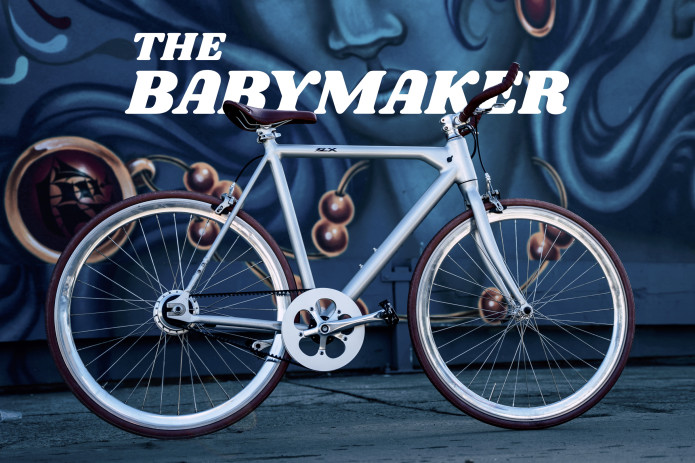 Delivery Guaranteed
Your contribution with us is a guaranteed purchase, That means if you order a bike with us, you will get the bike, guaranteed.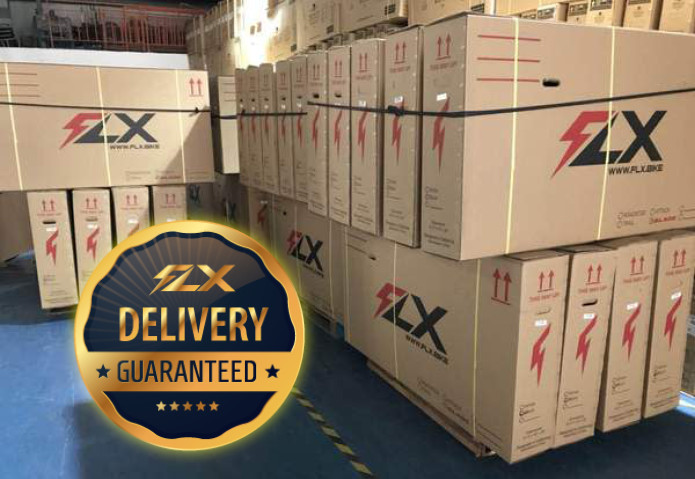 It's Electric!
This one-of-a-kind eBike combines the best features of both traditional bicycles and electric bikes. Its unparalleled aesthetic and innovative design make for one smooth ride. Say goodbye to awkward cables and ditch the bulky batteries - it's time to take pride in your ride.
Introducing The Babymaker.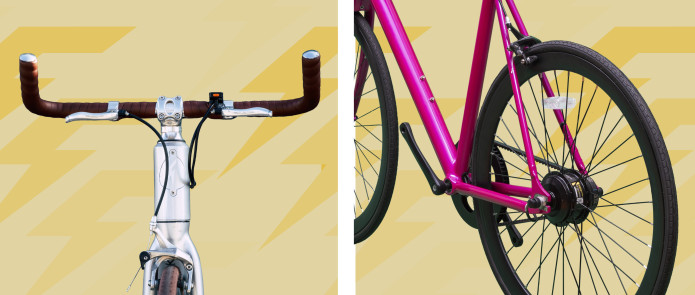 Make a Statement
With its lightweight frame, concealed battery and attractive details, The Babymaker is ready to go wherever you go...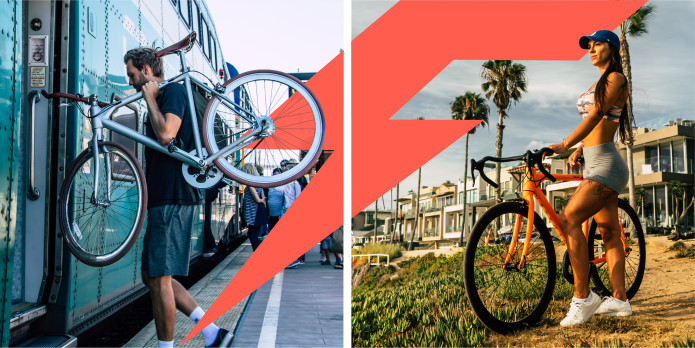 This Isn't Our First Rodeo
We've done this before. We're doing it again.
You can trust us to deliver you an awesome bike.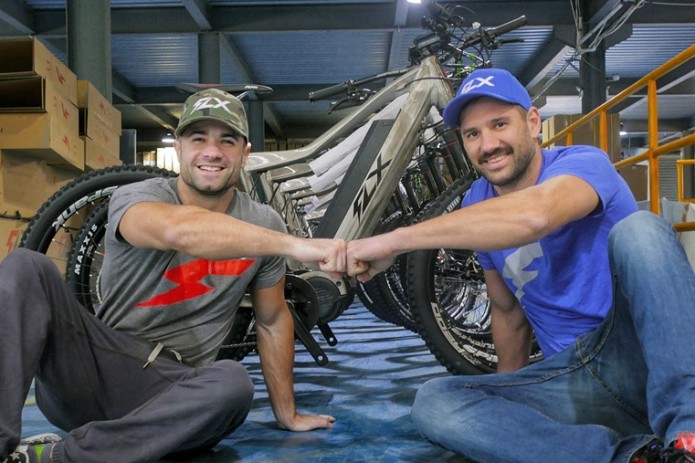 Hi, we're Rob Rast and Pete Leaviss.
We launched FLX Bike on Indiegogo in 2016. Over a few short weeks, thousands of people around the world joined the movement, ordering over $2 Million in electric bikes. There were so many orders that we actually moved into the factory to personally oversee and inspect every detail of production.
There were challenges every step of the way. We put our heads down, worked past obstacles and delivered on every order placed. Now we're ready to serve you in a way that's bigger and better than ever before...
So join us, for the ride of your life.
Rob, Pete and Team FLX
Be Bold. Be Beautiful. Be Free.
The Babymaker has a variety of customizable options, so you can really make it your own. Choose your ride, choose your color, choose your size, and GO.
1. Choose Your Ride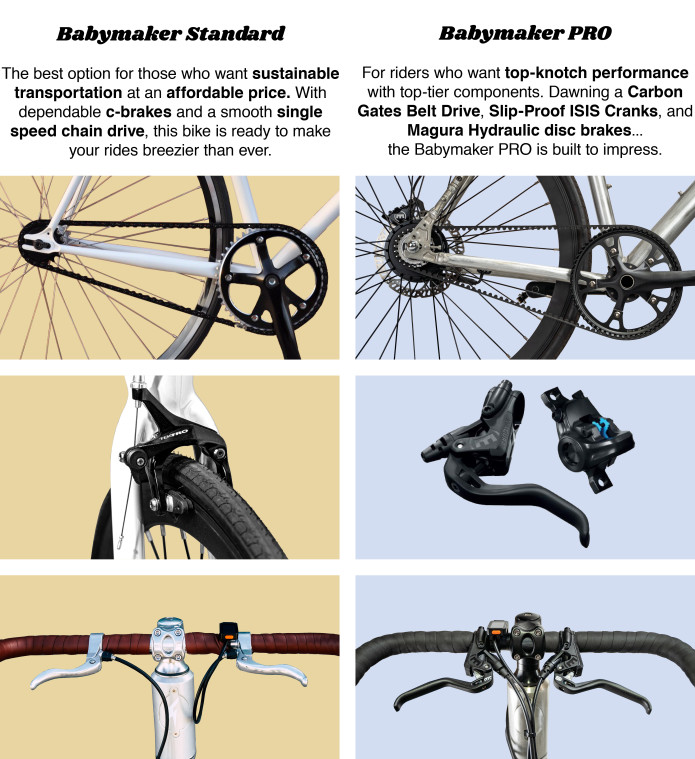 2. Choose Your Color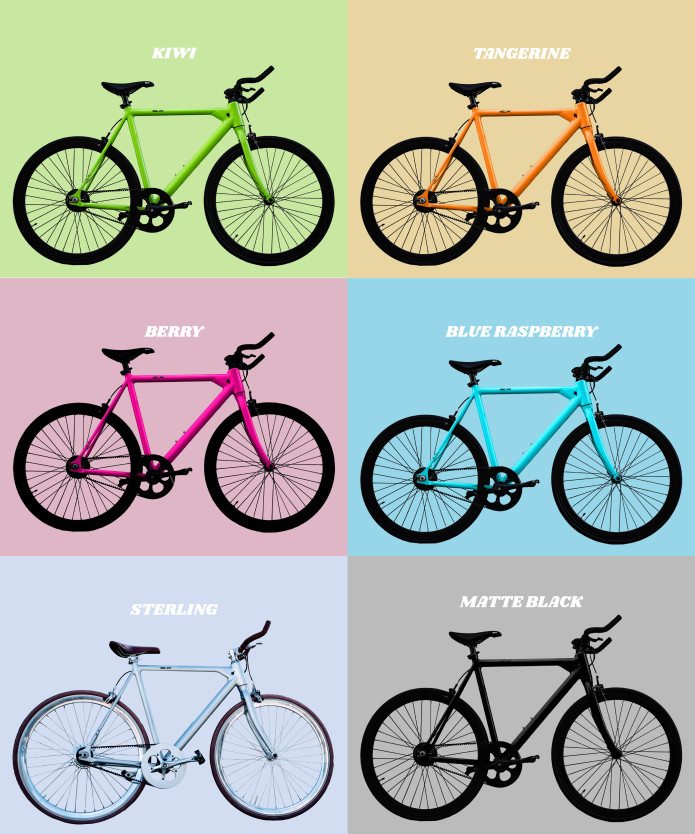 Choose from six bold colors that will turn heads even as you fly by at 28mph.
3. Choose Your Size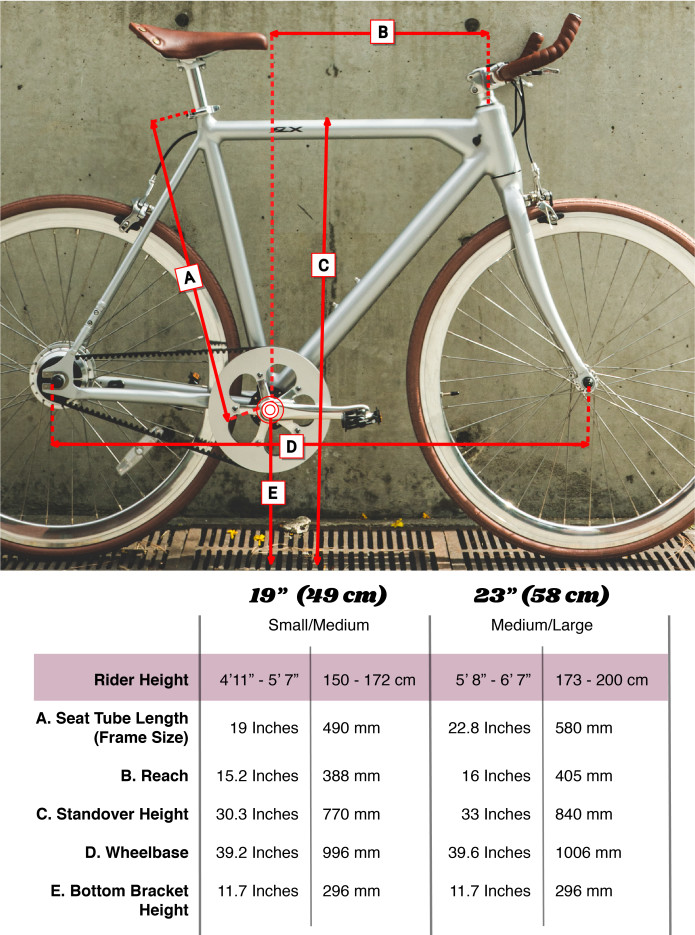 4. Choose Your Add Ons
Select any add ons you like to take your ride to the next level.
1. Touring Package - Complete With:
Cargo Rack

Front and Rear Fenders

USB Charging Front/Rear Lights

Smartphone Mount

Water Bottle Holder
2. Extra Battery 36V 7AH
3. Extra 4AH Fast Charger
4. Two Year Extended Warranty
The Babymaker is in Full Production
Last Minute Questions?
Keep an eye out for our next live, or watch a replay of past Q&A sessions-
It's all in the Details, Baby.
All eBikes are not created equal. The Babymaker has the style of a road bike and the brains of a rocketship.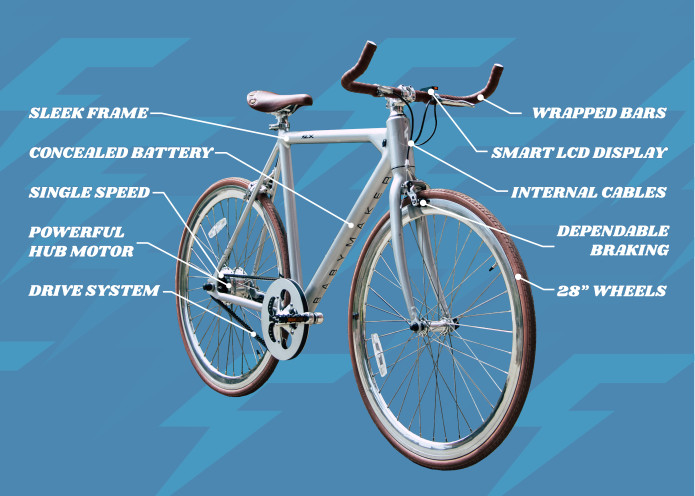 (Nobody knows it's electric)
Up Close and Personal
Stretch Goals
As the campaign hits certain funding goals, new stretch goals will be unlocked for you to purchase. So share with your friends to keep the new releases coming!
$2M: Team Babymaker Shirt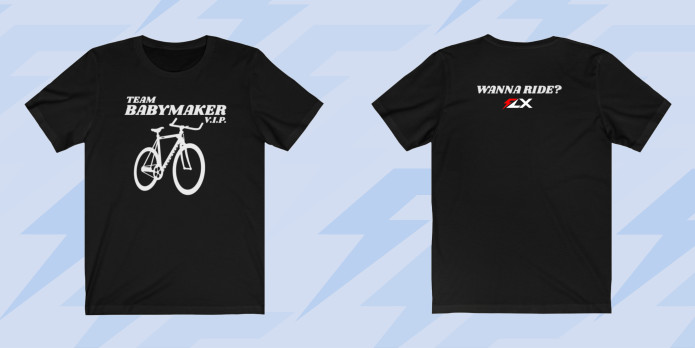 The most requested stretch goal so far. Look for this item in the perks section and show your Babymaker spirit!
$2.5M: Kickstand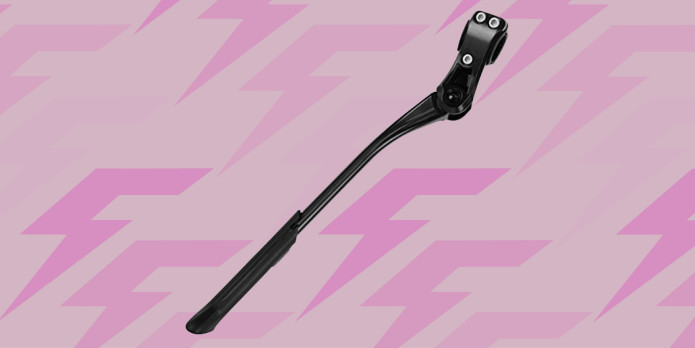 Kickstands will now be included on all production Babymakers purchased to date - no purchase necessary. So order with peace of mind, you'll have a way to rest the bike while you kick back and relax!
$3M: Upgraded Display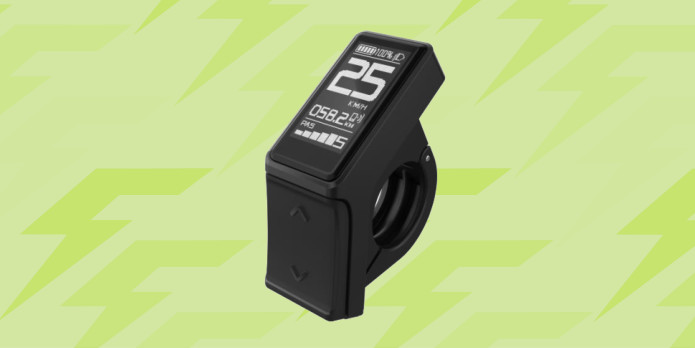 All Babymaker Orders past and present will get an upgrade to this new version of the LCD display free of charge. It's got improvements all around - upgraded firmware, hardware, buttons and screen. The original display is awesome and this just takes it one step further - part of our commitment to build you the best bike possible!
Please note: Our priority is to build and ship you the best bike possible, as soon as possible. If for any reason this upgrade does not live up to our expectations, or slows things down — we will proceed with the current display.
$6.9M: TRP Hydraulic Disc Brakes for Babymaker PRO with Drop Bars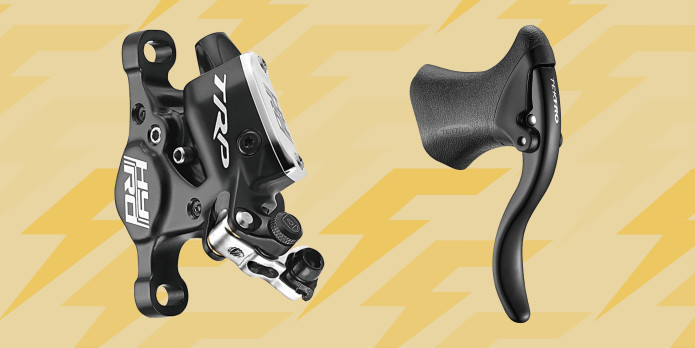 This free upgrade will move the brakes for the Babymaker PRO with drop bars to the ideal spot on the drop bars - in the front with vertically mounted levers. You'll be able to use the brakes in both an upright position and in the crouched aero stance on the bottom of the drop bars.
$10M: 28mph Max Assisted Speed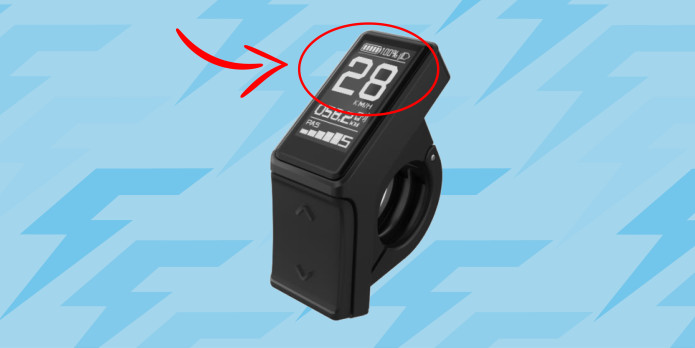 This means that all production Babymakers will get a firmware upgrade. The max assisted speed will be upgraded from 25mph to 28mph!
Where the Magic Happens
FLX Headquarters are in San Diego, California. Want to take a Babymaker for a spin or check out our other models? Drop by the shop and let our eBike specialists serve you.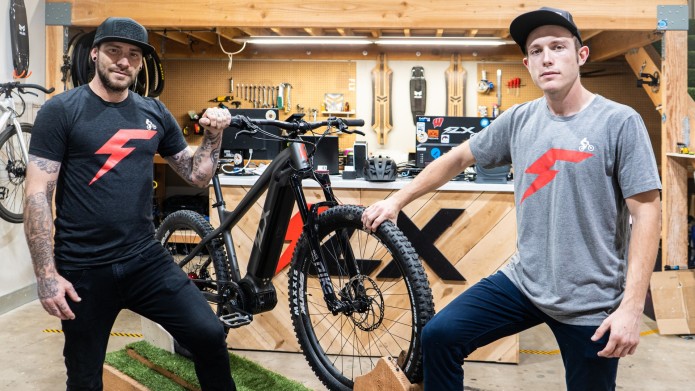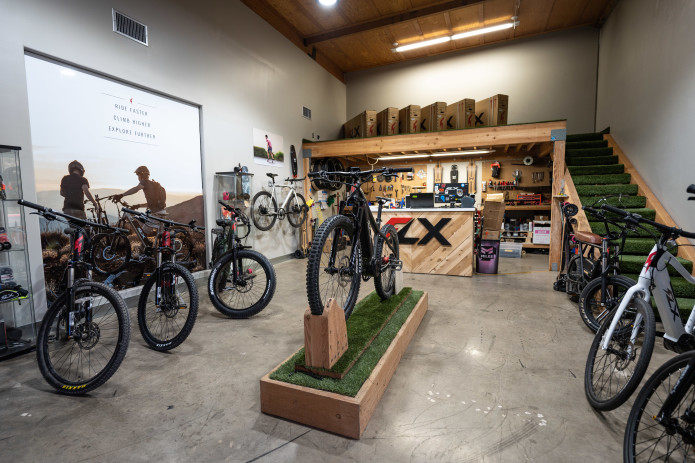 When the Magic Happens
Production is on schedule. We've already begun by sourcing all components for thousands of Babymakers ordered. Shipping you a quality bike as soon as possible is our Top Priority - so you can sit back, relax and get ready to ride your new Babymaker in style.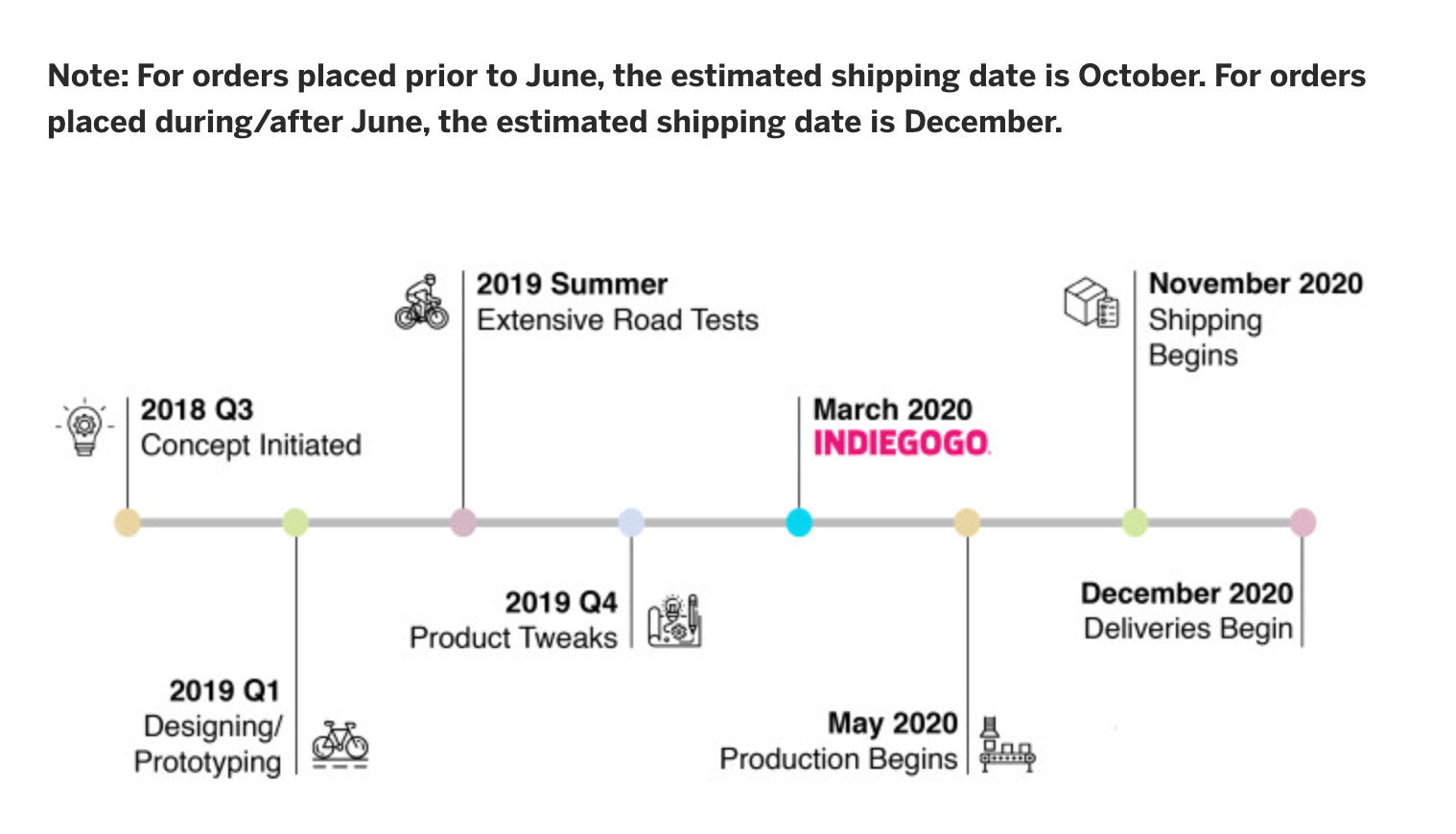 How the Magic Happens
The FLX family is here to serve you. If you need anything, just let us know and our world class (US Based) support team will take care of you.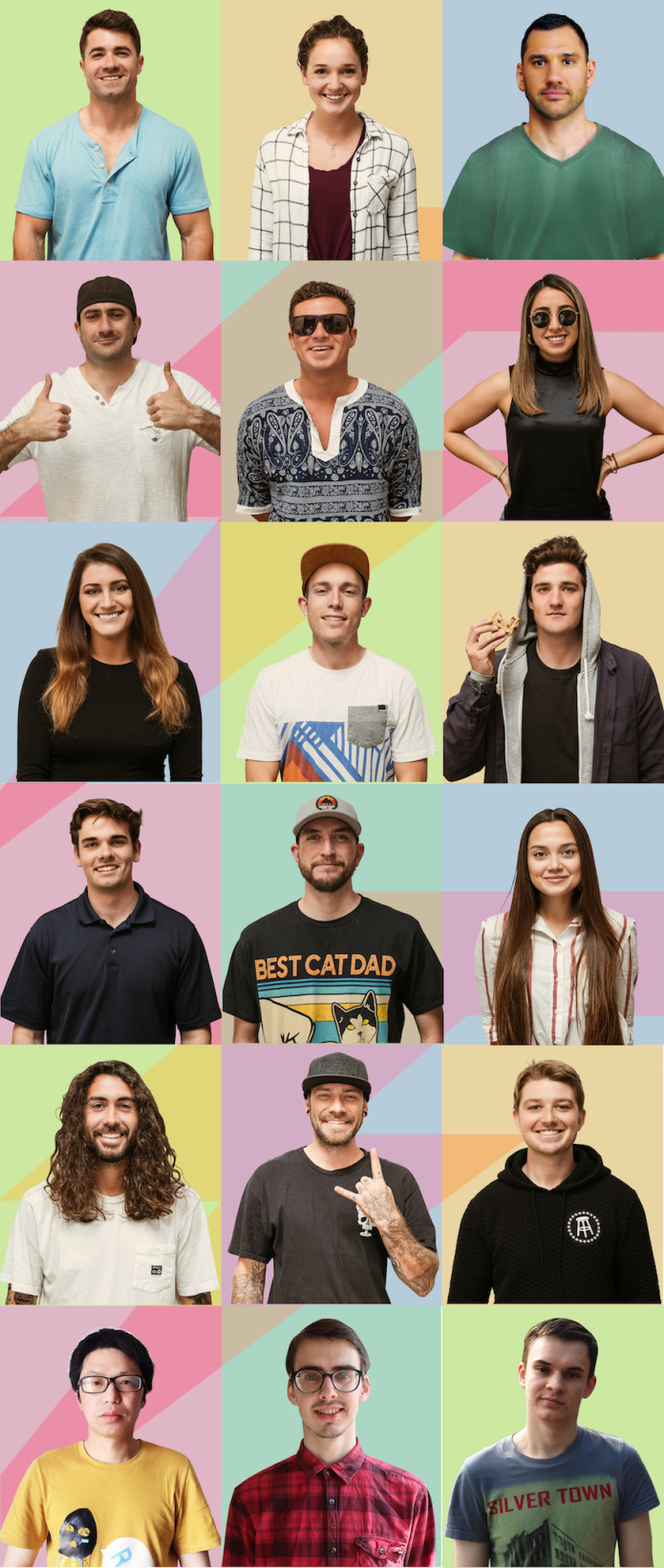 Want to see what we're up to?
Add the founders on Instagram:
Talk of the Town
See what test riders have to say about The Babymaker: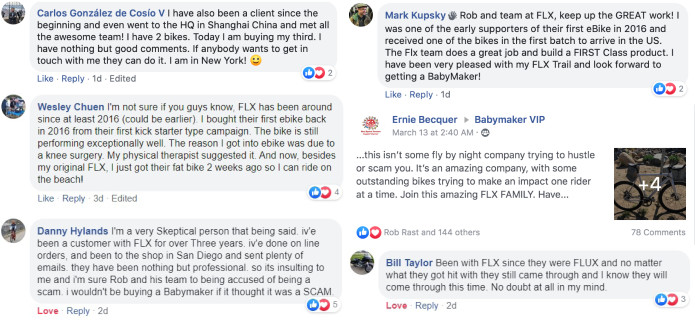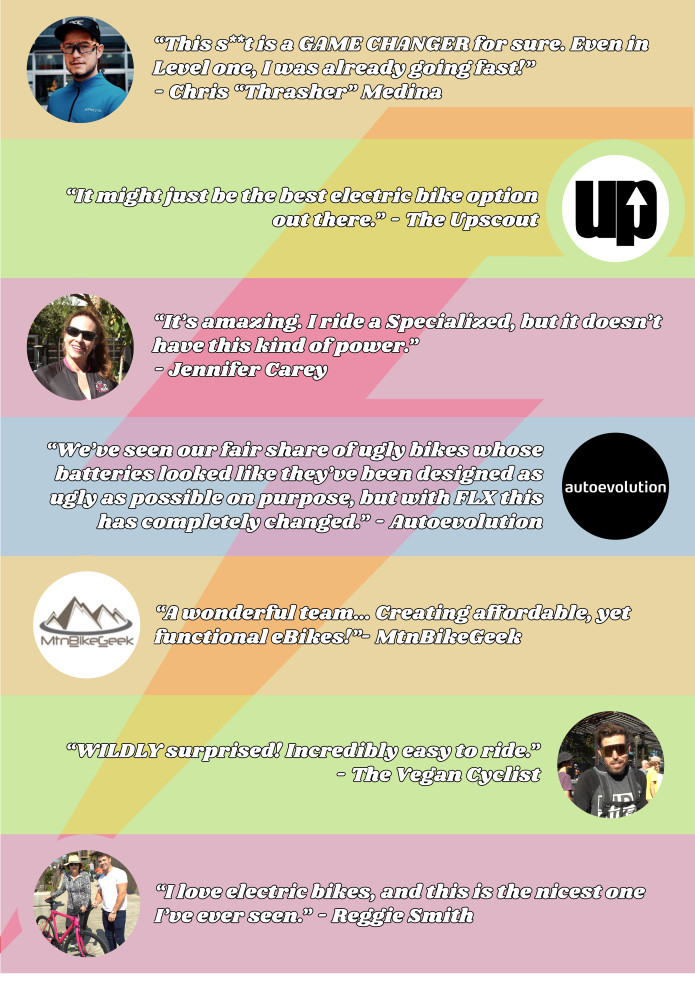 SPECS
| | |
| --- | --- |
| ESTIMATED MIN RANGE: | 15 miles (24 km) |
| ESTIMATED MAX RANGE: | 50 miles (80 km) |
| PEDAL (Only range): | UNLIMITED |
SPEED LIMIT

Adjustable to your local regulations.

MAX SPEED

(

where laws permit)

25 mph (40 kph)
TYPE:

Aikema (AKM) Rear-Mounted Geared Hub

OUTPUT:

350

watts

TORQUE:

60 Newton meters
| | |
| --- | --- |
| TYPE: | Samsung Lithium-ion (36 volts) |
| AMP HOURS: | 7 Ah |
| WATT HOURS: | 252 WH |
| CHARGE TIME: | 2.3 hours |
| | |
| --- | --- |
| MODULES: | Topology SW102, Fixed, LCD Display, Buttons: Power, -, +, M, Walk Assist: Hold -, Backlight: Hold +, Clear Values: Hold M, Settings: Double Tap M |
| READOUTS: | Pedal Assist Mode (0-5 with Arrows), Current Speed, Odometer, Battery Life (5 Bars), Average Speed, Max Speed |
| DISPLAY ACCESSORIES: | Display and Remote Integrated |
| DRIVE MODE: | Cadence Sensing Pedal Assist (12 Magnet Sensor) |
| | |
| --- | --- |
| TOTAL WEIGHT | 33.2 lbs (15.05 kg) |
| BATTERY WEIGHT | 2.5 lbs (1.13 kg) |
| | |
| --- | --- |
| FRAME MATERIAL: | Aluminum Alloy |
| FRAME TYPES: | High-Step |
| FRAME COLORS: | Gloss Orange, Black, Red, Lime, Hot Pink |
| FRAME FORK DETAILS: | Rigid Aluminum, 100mm Hub Spacing, 9mm Axle with Quick Release Skewer |
| FRAME REAR DETAILS: | Horizontal Dropout with Steel Sleeve, 125mm Hub Spacing, 3mm Adjustment Screws, 12mm Keyed Threaded Axle with 17mm Nuts |
| ATTACHMENT POINTS: | Bottle Cage Bosses |
| GEARING DETAILS: | 1 Speed 1x1 22 Tooth Rear Belt Ring |
| CRANKS: | Forged Aluminum Alloy Arms, 170mm Length, Square Taper Bottom Bracket Spindle, 64 Tooth Steel Front Belt Ring with Aluminum Guard and 5 Bolt Spider Provisions |
| PEDALS: | Wellgo M255, Aluminum Alloy Platform with Fixed Pins, Black |
| HEADSET: | Threadless, Sealed Cartridge Bearings, Tapered 1.2" - 1.5" |
| STEM: | Slight Rise, Aluminum Alloy, 35mm Length, 28.8mm Clamp Diameter |
| HANDLEBAR: | Bull Horn, Aluminum Alloy, 80mm Rise, 135º Bend, 475mm Width |
| BRAKE DETAILS: | Tektro R313 Mechanical Rim Brakes, Two-Finger Levers, Dual Pivot Caliper with Quick Release |
| GRIPS: | Black Bar-Tape |
| SADDLE: | FLX Branded, Vinyl Covered Gel, Active Footprint |
| SEAT POST: | Aluminum Alloy, Quick Release Collar |
| SEAT POST LENGTH: | 350 mm |
| SEAT POST DIAMETER: | 30.4 mm |
| RIMS: | Aluminum Alloy, Double Walled, 21mm Outer Width, 36 Hole, Black |
| SPOKES: | Stainless Steel, 13 Gauge Front 12 Gauge Rear, Black with Silver Screws |
| TIRE BRAND: | Kenda, 700 x 25c |
| WHEEL SIZES: | 28 in (71.12cm) |
| TIRE DETAILS: | Max 110 PSI, 7.7 BAR |
| TUBE DETAILS: | Presta Valve |
User Manual
Frequently Asked Questions
General
Is this a donation or will I get a bike?

When you checkout on Indiegogo, you'll see something that reads: "Your donation is a way to support a project but does not guarantee that you will receive a perk."

This is just Indiegogo's way of protecting themselves with legal language. They have no control over what type of projects are funded on their platform so they want to cover their butts.

We have a rock-solid track record and we guarantee the shipment of every single bike.

When you order on a crowdfunding site, it's a great idea to do some due diligence so you can judge how trustworthy the campaigners are. Here's some background on our company to help you-​

​You can see from our original campaign in 2016 that we raised $1.7M on Indiegogo (+400K on our site) and got straight to work. As a new company, we encountered many unforeseen challenges that would have stopped many others in their tracks.

We powered through them working 120 hr weeks with no breaks and delivered every single bike ordered. If you want to see how it unfolded you can check the updates section of that campaign.

There are videos of every single step of the manufacturing and delivery of the bikes ordered.

Since then we've run another campaign for our electric skateboard (delivered every single one), released over a dozen new bike models and shipped thousands more bikes worldwide.

I hope you can recognize that track record and the invaluable experience built up over the years. We are here for the long run and guarantee the delivery of every bike ordered.
Why is it called the Babymaker?

We chose the name because it's FUN and makes us smile, similar to the experience riding. Also like the bike it gets quite a bit of attention - which is something we feel electric ridables could use more of!
Do you make a step through, off road, fat bike or other model?

Yes! You can purchase many other models from us here - note most of these are available for immediate shipping, while supplies last. We also make the best electric skateboards in town, check them out here.
Do you have financing?

Yes, for those that need it, you can order your Babymaker with financing through our website! Just click this link to learn more and order yours.
Will COVID affect production?

So far COVID-19 has had 0 effect on production. All of our overseas production facilities are working in full force. We don't foresee any delays due to the corona virus.
Why can't I see the battery?

We get it, you're used to seeing ebikes with big ugly batteries and wires all over the place. Our engineers spent a tremendous amount of time making the battery disappear completely... But trust us it's there built right into the frame of the bike!
Are you hiring?

Yes, we have several positions available. Check them out and apply here.
Will the production bikes be exactly like the ones pictured?

No. They will be even better. We have a few tweaks to make and reserve the right to make modifications in the interest of making your Babymaker even better. We've already made some upgrades based on thousands of miles of real world riding and feedback from test riders around the world.
What range can you get?

UNLIMITED - with pedaling. It pedals just like a normal bike. With pedal assist, typical riders can expect around 15-50 miles of assisted riding. Range figures are estimates and not a guarantee that you will achieve them. Range varies significantly with terrain, inclines, rider weight, pedal assist level and other factors.

Check out this range report from Eugene's first day out on his Babymaker Beta-
Are you planning to offer upgrades?

Yes, we have some exciting ideas for stretch goals. When the campaign reaches a certain funding amount we'll unlock these upgrades! Tell your friends so we can release these faster!
Which Frame Should I Choose?

4'11" - 5'7" Choose the 19" Size 5'8" - 6'7" Choose the 23" Size. Taller riders can check this video from Dave, a 6'6" rider on the 23" Tangerine Babymaker -

 
Can It Hold My Weight?

We stress test the frames in the lab to 270lbs. That said, Pete and Rob have been known to ride double on one bike, jetting up hills with over 360 lbs combined weight!
Can I test one at your office?

Yes! Come cruise by the showroom in San Diego. FLX Bike 4170 Morena Blvd. Ste D, San Diego, CA 92117
Is there a warranty?

Yes! We use high quality components and are in this for the long run. If you need any support at all you can reach our US Based support team by phone or email. All FLX bikes are protected by a one year warranty. All parts are covered from defect or fault. If anything should fail outside normal wear and tear or rider damage we will send you a replacement component.
What if it's past the warranty or I broke it myself?

No stress, we still have your back with excellent support (from real humans in the US) and will help you purchase the correct replacement components to get rolling ASAP.
How do I get replacement parts?

You'll be able to purchase replacements on our online store at http://flx.bike. We still stock components for our very first generation of bikes which we launched in 2016.
Where can I get my Babymaker serviced?

The Babymaker is extremely simple. Aside from the electronics it's built 100% with standard bike components. Any reputable bike shop will have the tools to service your Babymaker. For any non standard maintenance we will provide video instructions to ensure top quality service.
Technical
Can you ride it in the rain?

Yes! The Babymaker performs in even the worst weather. It is rainproof, but we don't recommend going swimming with it.
What size tires will it fit?

In Summary: The production Babymaker has a 700x28C tire. Tires up to 700x32C should be fine. There may be exceptions for taller tire profiles. It may be possible to fit a 35 wide tire but not recommended.
How much does it weigh?

The Babymaker is one of the lightest electric bikes on the market. In the current configuration It weighs in at just 32lbs. That's less than just the battery of a typical car!
How do you charge the battery and how long does it take?

It's simple, just plug the charger into the charging port located on the head tube. It takes about 2 hours to charge with the 4A fast charger.
Can the battery be replaced?

While the battery is built into the bike, it can still be removed if ever needed for service. Simply drop the fork, remove the plate on the headtube and pull the battery out to remove.
Will the charger work with 120V and 220V outlets around the world?

Yes, the charger is rated 100-240V and uses the same power cable that desktop computers use. Works in every country.
Can you charge the bike by pedaling to increase range?

No, such a system defies the laws of physics and would decrease the overall range of the bike rather than increase it. Because the efficiency of dynamos and motors is only in the 80-90% range, such a system could only convert ~80% of the energy you put into pedaling into motion. On the other hand, if you simply used this energy to propel the bike, you can put almost 100% of that energy into motion. Put simply, the bike is simpler and will go further without this system.
Is there room for a water bottle mount?

Yes, there are braze-ons on the seat tube. The touring package comes with a water bottle holder.
Are there mounting points for fenders and a rack?

Yes, standard mounting points for fenders front and rear along with mounting points for a rack.
Will you sell a rear rack?

Yes just choose the touring package when you check out to get the included cargo rack.
Can you remove the wheels if you need to put it in a car?

You can easily remove the quick release front wheel with no tools in just a few seconds. The rear will take a little longer due to the motor and belt drive.
What happens if I get a Puncture?

Changing a flat on a Babymaker is exactly the same as on a standard bike. The rear tire can be changed while the motor is still plugged in.
How much maintenance does the motor require?

The Babymaker motor is maintenance free. Our motor manufacturer has been making these types of motors for years so they've been thoroughly tested in the factory, in the field and with 1000's of other riders. If needed the rear wheel and motor can be easily swapped for a new unit.
Legal
Will this comply with the laws in Europe/Australia/Mars?

For our friends in Europe and other places, we will be sending the Babymaker with a 250w rated motor and EU compliant speed limit. Motors up to 250w nominal power are legal in most countries. We'll be tuning the 250W version for max performance - you will be hard pressed to notice any difference in performance. The speed limit can be programmed to comply with local laws.
What's the top speed of the Bike?

The Babymaker can easily achieve 25mph, for legal reasons, above 25mph the motor cuts out and it's down to the rider how fast they can pedal. The bikes all have a speedometer in the display so you can see exactly how fast that is.
Do I need a special license to operate one?

FLX bikes are legal and classified as an electric bike almost everywhere, and as such don't require a special license. Feel free to check the regulations of your local jurisdiction before purchasing.
Do I need to wear a helmet?

We strongly recommend wearing a good helmet. Accidents happen (ask Rob : D ). If you value what's inside your head, a helmet can protect it from damage. Not only that, it's the law in many places. Bottom line: you're responsible for your own decisions. You may see us riding without helmets from time to time and that's a value decision we make and own. We trust you'll make the right decision for you each time you ride.
Payments and Shipping
How Much is Shipping?

For the US it's $100. If you live outside the US, you can check the most updated shipping rate for your country by beginning the checkout process and inputting your shipping info. There are a handful of special regions (remote islands etc.) with unique handling rates. If that's the case, we may reach out after building your bike to collect any additional fees that apply. Note: There's an additional shipping fee for orders to Hawaii and Alaska. If you order from Hawaii or Alaska, we'll email you with payment instructions when the campaign ends for the additional fee.
Can I pick the bike up in San Diego and avoid the shipping charge?

Sorry, we expect a very busy shipping season and to speed up all deliveries we will be shipping via UPS, Fedex and other couriers. We cannot accept pickup in San Diego.
When does it ship?

We expect to start shipping the first batches of Babymakers in Summer 2020. Shipping is first come first serve, so the sooner you claim yours, the sooner you'll be riding!
Who is responsible for any additional taxes, duties or VAT?

The backer is responsible, please check your country's import duties before purchasing. It is 0% in the US and varies internationally.
Is there financing?

Yes for Bikes shipped in the UNITED STATES ONLY. You can order your Babymaker with financing through our website! Just click this link to learn more and order yours.
What's the refund policy?

Please refer to IndieGoGo's policy here. We'll put the funds from Indiegogo directly into producing your bike, and delivering each order is important for this project to work.
Chat with us
Your question wasn't answered in the FAQ? Just press the button below to chat with an eBike specialist. If all agents are busy, please leave a message and we'll get back to you as soon as possible.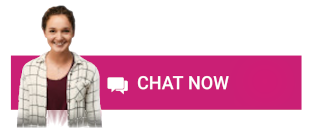 The California Standard
Electric Bicycles are defined by the California Vehicle Code.
New legislation became effective in January 2016. The current regulations define an "electric bicycle" as: a bicycle equipped with fully operable pedals and an electric motor of less than 750 watts, separated into three classes:
1.
A "
class 1 electric bicycle,
" or "
low-speed pedal-assisted electric bicycle,
" is a bicycle equipped with a motor that provides assistance only when the rider is pedaling, and that ceases to provide assistance when the bicycle reaches the speed of 20 miles per hour.
2.
A "
class 2 electric bicycle,
" or "
low-speed throttle-assisted electric bicycle,
" is a bicycle equipped with a motor that may be used exclusively to propel the bicycle, and that is not capable of providing assistance when the bicycle reaches the speed of 20 miles per hour.
3.
A "
class 3 electric bicycle,
" or "
speed pedal-assisted electric bicycle,
" is a bicycle equipped with a motor that provides assistance only when the rider is pedaling, (no throttle) and that ceases to provide assistance when the bicycle reaches the speed of 28 miles per hour and equipped with a speedometer.
Local government ordinances are allowed to permit or ban any class of electric bicycles on dedicated bicycle paths and trails, with Class 1 & 2 permitted, and Class 3 banned, by default
All our bikes come as standard with a 28mph motor limit making them Class 3.
Adding a throttle to the standard bikes will make them illegal for public use in every state.
Laws vary in different states / countries. Please check your local regulations. Here is a good resource of information in the US:
http://peopleforbikes.org/our-work/e-bikes/policies-and-laws/